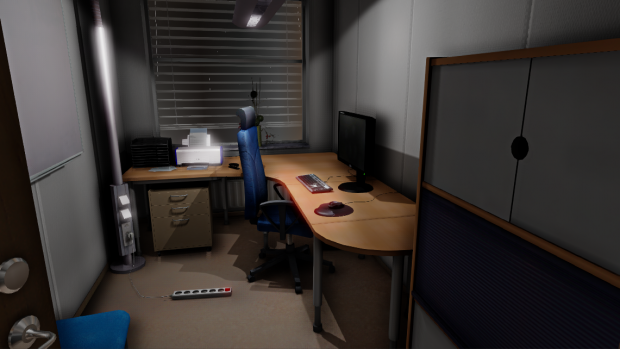 Hello everyone!
First of all I'd like to tell you that even the second final I was supposed to do went better than expected, said so, I want to apologize for not having put the usual effort into looking for worthy games in the past few days, in fact, I was nearly forgetting about
One Late Night
, a 3D horror adventure that has been released this 21st of January completely for free! In this particular game, you're not the usual lone survivor, nor the helpless girl put in an unlikely scenario, you're simply a graphic designer that has decided to work till late. But then, things start to get out of hand, you'll slowly realize that there's something wrong with your surroundings, paranormal events and what will look like a ghost aren't simply willing to have a cup of coffee with you.
And this, is the story of the unnamed (and unfortunate) employee constrained to share the office with a highly unfriendly entity, will you have what it takes to survive the night? It really seems like the only chance you have, is to choose wisely the table to hide under and don't forget, the light comes always in handy when you have to deal with such things.
Get it as soon as you can! just head over the
official site
, and you'll be ready to go within minutes, good luck!