Hello everyone,
Yesterday night I was thinking about how many exciting future releases was I tracking, and I actually had quite a lot of troubles remembering them all so, today, I might help you out with a short reminder, featuring 5 survival horror games that can't really be forgotten.
Outlast
Developed by the indipendent Canadian studio Red Barrels, a story about a journalist sent to an asylum that has been closed for years and only lately reopened by a mysterious company (
redbarrelsgames.com
).
Montas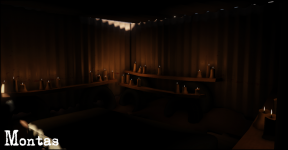 Developed by Organic Humans, an indie development studio based in Australia. Montas, inspired by Amnesia and Penumbra, is definitely going to be one of the most representative games of the survival genre (
welcometotheopera.com
).
The Intruder
A game that I've recently talked about. The player will impersonate himself trying to survive in a dark house gathering resources and weapons in order to be ready when the inexorable meeting will take place (
The Intruder's Steam Page
).
Rebirth
Tower 22
As last but not least, here's Tower 22, a first person horror game where you play as a caretaker of a rather creepy building, after some spooky happenings you'll dive in a breathtaking adventure to stay alive (
tower22.blogspot.com
)